Contact Report
Annals of Intelligence
Volume 2
The Covert Comic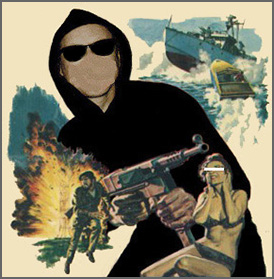 The following information is classified Third Eye Only.
*
There are fewer things too strange to happen, than things too strange not to.
*
The contact report is a contact sport. – Contact report
*
Intelligence is far too important to be left to the intelligent.
*
Don't imagine for a second that the CIA can detect your thoughts. Imagine it for at least 2.5 seconds, so we can calibrate our servers.
*
Secrets have no morals - but not vice versa.
*
A covert op is only as effective as its worst operative. The worse your worst operative, the more effective your covert operation.
*
Subject and I had philosophical differences. His philosophy was that he should continue breathing. – Contact report
*
Real smart weapons play dumb.
*
Secret 0.81201. 9 out of 10 stories with legs have cellulite.
*
My view on CIA torture? It depends on who at CIA you're torturing.
*
'Open secret' isn't an oxymoron, it's a redundancy.
*
Subject told me not to be afraid, as she didn't bite.
Luckily I'd been briefed that she constricts and swallows whole. – Contact report
*
Covert action is diplomacy carried to its logical contusion.
*
Secret 80916003. If it doesn't hurt when they snatch it, it isn't worth dangling.
*
When writing a contact report, the term 'intense vocalization' should be used in place of words like 'moan,' 'pant' and 'sigh.' – Contact report guidelines
*
Never put off until tomorrow what you can schedule a series of monthly meetings to evolve a framework for a plan to address next year today.
*
My asset looked more dead than alive. Which, given that he was in fact dead, lent the scene a certain credibility. – Contact report
*
I don't subscribe to conspiracy theories unless they include the swimsuit issue for free.
*
Secret 251170. Never let power go to your head. There are much better parts of you for power to go to.
*
The Key Judgments in this National Intelligence Estimate completely contradict each other. That said, this NIE is not without its flaws. –

*
Didn't see my therapist today. The shower cam was too foggy.
*
An unparalleled restorative is the best tonic.
*
Secret 3963. It's only a sucking chest wound if you're not the shooter.
*
Too much groundbreaking leaves nothing but dirt.
*
Secret 146250. A fool and his intelligence assets aren't soon parted.
*
I hate speaking in public, unless I'm the one talking.
*
FORTUNECOOKINT of the Week: The paper this fortune is printed on contains more nutrients than the cookie it came in.
*
Sometimes, what seems like an evil is really the good in disguise (which, if you think about it, is kind of evil of the good).
*
SpookSpeak. Zombieline n. A deadline that moves under its own power in search of live brains to consume. Also known as an undeadline.
*
I'm not necessarily saying polygraphers are bad people, I just feel that monographous relationships are healthier for everyone involved.
*
The foot is nobler than the shoe. But the shoe is nobler than the clown shoe.
*
We need a sanity check.
… Yep, still insane.
*
Life is like a kumquat: some parts are sweet, some parts are bitter, and its name sounds funny.
*
During my first TDY, my COS told me "Your contact reporting needs more glandularity."
I said "You mean granularity?"
He said "That too."
*
Whatever doesn't annoy me makes me nicer.
*
I never blink in the face of danger. I clear out long before danger gets that close.
*
Doing is one thing, saying is your cover.
*
Let the facts speak for themselves, and they'll usually plead the Fifth.
*
Misery loves the Company.
*
Who says you can't negotiate with terrorists? I just traded one for a deputy foreign minister and cash! – Contact report
*
The low-hanging fruit acquires the fungal propagules.
*
I never read the whole Zen koan – I just skip ahead to the end to find out if the monk attained enlightenment.
*
Director's cut? Let's hope it's a major artery.
*
Secret 14001. Best practices, good enough does.
*
Lying in politics isn't as old as the hills; lying in politics created them.
*
By stripping it of natural moisturizers, ethnic cleansers leave your ethnicity dry, wrinkled and flaky.
*
What we need is a multidisciplinary approach to counterintelligence. The more frequently a CI officer gets paddled, the better.
*
We don't have to live in fear. We can move out to the suburbs and commute to fear instead.
*
Bishop Fulton Sheen
If not for his call to priesthood
The Bishop Fulton Sheen
Might have been a five-star general
Or even a famed drag queen
*
Remember, vast government conspiracies create jobs.
*
It bothers me when I hear people making negative comments about my religion. I worked hard to found that religion.
*
E = SLL
Energy equals staff times the speed of life scared.
*
America has never lost a war. We just misplaced a couple temporarily.
*
In the part of CIA where I work, 'safe house' and 'one-time pad' mean the same thing.
*
One compromises much to remain uncompromising.
*
As thou stoneth the martyr, so thou martyreth the stone.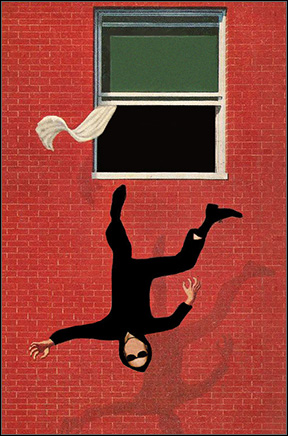 *
You can't lose face if you don't have one.
*
When is the lessons learned review on the lessons learned review?
*
All I need to recruit an asset is a briefcase full of money and a beautiful woman (and maybe something for that asset).
*
The Nobel Prize for Irony is won each year by Alfred Nobel.
*
The TSA confused a bottle of perfume with a hand grenade. Talk about an embarrassing mistake – everybody knows perfume is far more lethal.
*
Agnostics question the existence of God. Believers waterboard it.
*
If each of us learned to want less, we would all have so much more ... which would be sad, because we wouldn't want it.
*
Secret 100. Never assume your briefing audience is less intelligent than you. Carefully vet and edit the invitation list to make sure.
*
It goes without saying – especially if it owes you rent.
*
Subject executed a moving dead drop. It nearly brought me to tears. – Contact report
*
To be na´ve is to be ala´ve.
*
The future is not googleable. I found that on Google.
*
Secret 18033-3. If the key to her heart is 128 bits or greater, you're probably wasting your time.
*
Aphorism: a type of joke featuring a setup in the form of a brief observation, followed by a punch line consisting of a random person's name.
*
Social media doesn't cause suicide, so much as articulate it.
*
That 'If you're not outraged, you're not paying attention' sticker on my bumper isn't a political statement, it's a comment about my car.
*
Kids today want the world handed to them on a silver platter. Back when I was young, we expected nothing less than a platter made of gold.
*
There's a little bit of James Angleton in every CIA officer. Counterintelligence implants a sequence of Angleton's DNA in each employee when they EOD.
*
People who are needed by people who need people aren't the luckiest people in the world.
*
I know how twisters feel – I've touched down in trailer parks and wished I could do the exact same thing.
*
Question authority. Ask authority if it's lost weight or been working out recently, because it's really looking great.
*
Misogynist es tusogynist.
*
People will forget what you said, but they'll never forget how you made them veal. – Cooking with Maya Angelou
*
Secret 4.1.85921. Just because it's thrown into the burn bag doesn't mean it ends up in the furnace.
*
I used to wonder why somebody didn't do something for peace.
Then I realized I am somebody.
So now I know why somebody doesn't do something for peace.
*
She gives good head of state. – Contact report
*
In cyber espionage, the cloak and the dagger are one and the same.
*
The latest technology, besides raising troubling ethical questions, can post those questions to multiple social media with a single click.
*
My problems are now in denial about me.
*
When the good die, their goodness does not perish with them, but instead continues on, to wander the earth undead, preying on the living.
*
"I thought you were the one," I told her sadly.
"You were close," replied Theone.
*
In an alternate universe, the wider you spread it, the thicker it gets. – Why We Couldn't Possibly Be Living in an Alternate Universe, Reason 90812192
*
Motivational Secret of the Week. There are no menial jobs. But you're welcome to check back next month.
*
It never hurts to ask – you're dead before you finish the question.
*
Sometimes escape velocity is a negative number.
*
As long as you have two or fewer, your ducks are always in a row.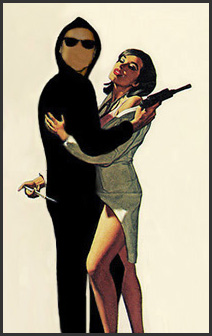 *
When opportunity NOCs, it makes no sound.
*
Redaction marks are the truth dressed in black burqa.
*
Successfully resisted a honeypot approach by Russian intelligence.
One lingering concern: how did the Russians find out I like honey? – Contact report
*
I can pass any polygraph, as long as it's cut up into small enough bites.
*
Extraordinary Claims
Extraordinary claims require extraordinary evidence
Extraordinary evidence requires extraordinary research
Extraordinary research requires extraordinary funding
Extraordinary funding requires extraordinary claims
*
Paradigm shift: does that come before swing shift or after?
*
You run away to join another circus.
*
I don't mind being a tool of my tools, as long as I'm kept well oiled.
*
Where I work, you're not considered an expert on global affairs until you've had at least one on every continent.
*
If living well is the best revenge, and revenge is a dish best served cold, living well must be ice cream!
*
I had a hidden agenda, but I forgot where I stashed it.
*
Too bad for a lot of people that beauty isn't skin wide.
*
They asked me if she was an agent provocateur. I answered no, and passed the polygraph.
... Obviously, she was an agente provocatrice.
*
SpookSpeak. Irony n. That which results from any attempt to employ the word 'ironic' in a sentence.
*
Secret 241045. 'Talk is cheap' is talk.
*
Never be afraid to stand up for what you believe in. If people get angry, you can always pretend you were just standing up to stretch.
*
We'll know we've built a machine that's truly alive when it commits suicide.
*
If brevity is the soul of wit, why does it have more syllables?
*
The Law of Fads. By day 30 of any fad, a 102-year-old woman will have participated in it successfully, and a teenager will have died trying.
*
Restricted Rhymes
The heart of the man who said
'Bury my heart at Wounded Knee'
Is buried 6.7 miles from
The Dunkin' Donuts in Stonington, CT
*
When they say 'You can't legislate morality,' do they mean it's against the law?
*
A quote about Burundi is a quote about Burundi. But a quote about America is a quote about the quotee.
*
Fall seven times, stand up eight? In that order?
*
Don't touch me – I don't know where I've been.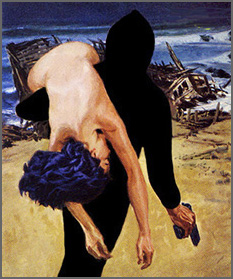 First tour, huh?
*
If it fits in a frame, it isn't the big picture.
*
The expert crowd is adept at blending into a spy.
*
A double standard is an outrage. A single standard is an atrocity.
*
HUMINT is like truffles: it's expensive, to get it requires digging up dirt, and you spend most of your time working with pigs.
*
Attempted to delicately change the subject. But despite being soiled, subject loudly resisted. – Contact report
*
I wouldn't object to being conscious during brain surgery, as long as someone told me where to cut.
*
To grab a redaction officer by the head and scribble all over his or her face with a black felt-tip marker isn't funny after a while. –

*
No easy answers? I know plenty of answers that'll do it on the first date.
*
We're all divorced from reality. The only question is whether you're paying alimony or receiving it.
*
Ask not what your country can do for you, lest your country get ideas.
*
Aim for the stars. Even if you miss, you may hit an executive producer.
*
Secret 72910141. Dangle perilously from the escarpment, or not at all.
*
Oh for a book and a shady nook? Oh for a shady bookie and some nookie.
*
Every great summer song was recorded the previous winter.
*
It could have been worse: instead of forbidding a fruit, God could have mandated a vegetable.
*
Refutation of Baldy's Law
Baldy's Law: Some of it, plus the rest of it, is all of it.
1. Suppose some of it + the rest of it = all of it.
2. By Job's Rule╣, there's always more of it.
3. Accordingly: all of it – (some of it + the rest of it) > 0.
4. Adding some of it + the rest of it to both sides of the relation, we have:
All of it – (some of it + the rest of it) + (some of it + the rest of it) > some of it + the rest of it.
Or equivalently:
5. Some of it + the rest of it < all of it.
From which it follows that:
6. Some of it + the rest of it ≠ all of it.
Thus, for all values of it, it is never the case that some of it, plus the rest of it, is all of it.
__________
<![if !supportFootnotes]> [1]<![endif]> Jb 15, 9
*
Is it true that if you have to ask, you'll never know? – Zen polygraph test
*
To die with a secret on one's lips – there are worse parts of one's body to die with a secret on.
*
'Scarface' is a redundancy.
*
Robot analysts?
... You mean up to now they weren't???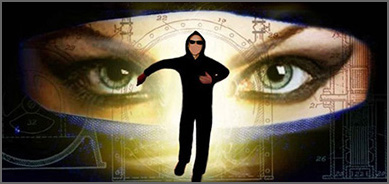 *
Intelligence is its own euphemism.
*
Kiss the girls and make them neither confirm nor deny.
*
The enemy of my enemy, and my enemy, are both on the payroll.
*
Plenty of honey, judging from the size of the pot. – Contact report
*
All is not lost – so why the hell should it stop to ask for directions???
*
It's not he who laughs last, but he whose laugh lasts.
*
The lessons-never-learned review is way more useful.
*
Mistaken identity? As if every identity isn't a mistake.
*
In the final analysis, it's even money whether they'll use the phrase 'in the final analysis.'
*
There are no secrets. (TS/ORCON/NOFORN/NOCONTRACTOR)
*
Mirror, mirror on the wall, please point your cam at the shower stall. –

*
NOC, NOC, who isn't there?
*
If the CIA isn't a force for truth, what is it good for? (Truth, I mean, not the CIA.)
*
Nothing lasts forever. Nothing's that brief.
*
It's not what you know or who you know, it's how to look like you don't know anything.
*
The world is one big back room.
*
If you couldn't ask God just one question, what would it be?
*
I said I knew what I was doing. I never said I knew what would happen after I did it.
*
When laughing because you must not cry, can you please not make that snorting sound?
*
The meaning of life is

.
… Redaction mark?

What redaction mark?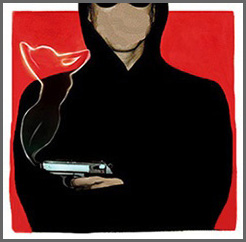 The Covert Comic isn't like you. The Covert Comic is love you.