The Covert Comic
Weekly Intelligence Briefing
(Note: Cleared readers only, please.
)
… But enough about my cover story, let's talk about yours.
● The FBI's Strategic Information and Operations Center (SIOC) is capable of providing coordinated real-time intelligence and communications in response to multiple national or international crises, or the presence of up to two CIA employees visiting FBI Headquarters cafeteria.
● According to the CDC, hand sanitizer should contain at least 60% alcohol. That's 120 proof. By way of comparison, brain sanitizer is only 100.
● Wild horses couldn't drag me away – because that would require they be trained to pull a payload in tandem, in which case by definition they'd no longer be wild.
● Woke up this morning naked in my neighbor's shed, a faint taste of blood on my lips.
Probably those social media influencers again.
Executive Intelligence Summary
LASIK Poem
Boys don't make passes
At girls who wear glasses
But in his dreams every boy seduces
A girl with laser-assisted in situ keratomileusis
*
CONOPS is a redundancy.
● Intelligence Community Pickup Line of the Night: As a MASINT officer, I can confirm that you've got the hottest infrared signature I've ever seen.
● I laughed when Fidel Castro said using ethanol from corn to make gasoline was capitalism taking food from the poor. But when I found out that ethanol is actually alcohol, and capitalism was taking booze from me, it didn't seem so funny.
● 'Eye contact' means looking at each other???
... Sorry.
● I stand by my principles. The fact that I stand several feet away from them with my face covered is purely a health precaution.
Executive Intelligence Summary
Speak truth to power, and let the rim shots fall where they may.
*
There's covert action, and there's clandestine operations. Always confuse the two.
● My SWOT analysis got swotted. – After briefing the Secretary of State
● I'll have a mixed reality with a tangy vinaigrette.
● I didn't see my therapist today. The spy cam in her shower was foggy.
● Kiss me once
Then kiss me twice
Then kiss me once again
… But only in that order
PostTopSecret of the Week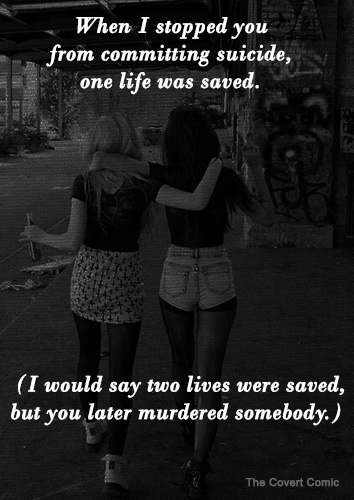 – From PostTopSecret
The Covert Comic officially isn't on Twitter.

The Covert Comic.
Read him while you still can!