The Covert Comic
Weekly Intelligence Briefing
(Note: Cleared readers only, please.)
You can't quarantine me, I have diplomatic immunology!
● Secret 9004. The information owner by the information shall be owned.
● I invented myself – but my application for a patent was rejected on the grounds that my invention wasn't useful, novel or nonobvious.
● In 1097 the pope outlawed crossbows. Today, a mere nine centuries later, crossbow violence has been reduced by over 40%.
● Never mistake kindness for weakness. Kindness has been known to kill people for doing that. –Tradecraft
Executive Intelligence Summary
A slippery slope? That's what crampons are for, my friend.
*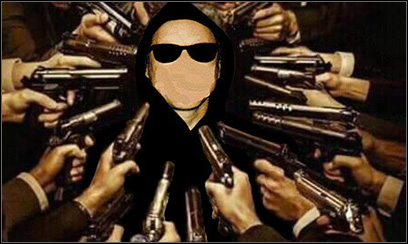 Who can tell the range of joy, or set the bounds of beauty? (I mean besides the US Department of Commerce's Office of Weights and Measures?)
● Intelligence Community Dis of the Day. Their intelligence cycle has training wheels.
● I filled out a survey at work. The first question was: 'Functional manager? _________________'
I wrote 'Rarely if ever.'
● If an issue is a cause célèbre, but mostly for people who use the term 'cause célèbre,' you can safely ignore it.
● We say 'I don't know whether I'm coming or going,' as if it were somehow possible to do only one at a time. – Tradecraft
Executive Intelligence Summary
I got your hardened structure right here.
*
It's not an oxymoron, it's an oxydifferentlyabledintellect.
● Intelligence Community Pick-up Line of the Night. With well-coordinated operations and proper alignment of resources, I'm confident you and I can achieve a desired end state of horizontal integration.
● Emotions are like a passing rainstorm: if you live in Southern California, you may never have to experience one.
● 'Do or do not?' Don't we do or do not already, pretty much all the time?
● Fool me once, shame on you. Fool me twice, shame on me. Fool me three times, shame on you again. – My War on Terror!
Executive Intelligence Summary
You say 'chaos theory' like there's some other kind.
The Covert Comic officially isn't on Twitter.
*

The Covert Comic.
Read him while you still can!