The Covert Comic
Weekly Intelligence Briefing
(Note: Cleared readers only, please.)
Warning: Letting freedom ring at excessive decibel levels may cause tinnitus.
● Not only do I have a search warrant, I have a find warrant too. – [context classified]
● President Lyndon Johnson said, "The fifth freedom is freedom from ignorance." Fine, but what are the other four???
● Me, me, me
Me, me, me
Me eating wings
These are a few of my favorite things
Executive Intelligence Summary
The state of confusion has more than two senators. – Tradecraft
*
Always act accordion to your conscience.
● Nobody knows the trouble I've seen, unless they're cleared for TOP SECRET//TRBL//ORCON/NOFORN.
● New Year's Prediction: Discoveries in recursion will force us to rethink our theories of discoveries in recursion forcing us to do this.
● That 'Hallelujah' song by Leonard Cohen would have been more popular if he'd written a verse with the word 'Booyah!' in it.
● Show me a culture with no word for awe, and I'll show you a people who've never had their tonsils examined. – Real Men Don't Get Published
Executive Intelligence Summary
If the statement 'Not every question deserves an answer' was the answer to a question, I guess that question did.
*
It's the end of days somewhere.
● The United States does not employ the 'honey trap' method to recruit foreign intelligence assets. The United States is the honey trap method. – Tradecraft
● The commendability of putting your best foot forward depends entirely on what you step in.
● While breastfeeding is not in itself objectionable, be aware that breasts tend to swarm and can create a nuisance when fed in public places.
● For all practical purposes, 'slice of life' and 'slasher' can be considered one and the same genre.
PostTopSecret of the Week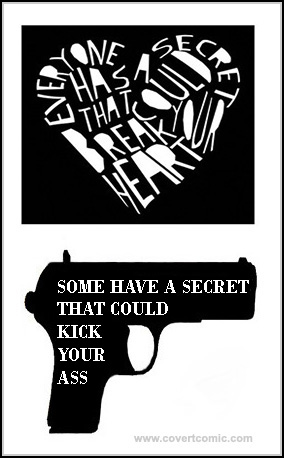 From PostTopSecret
The Covert Comic officially isn't on Twitter.
*

The Covert Comic.
Read him while you still can!