The Covert Comic
Weekly Intelligence Briefing
(Note: Cleared readers only, please.)

Cyber intelligence watch officer? Officer not afraid!

● 'According to a reliable HUMINT source with proven access' is to intelligence as 'based on a true story' is to Hollywood films.

●

Ain't no sunshine when she's gone. On the other hand, ain't nothin' but massive solar storms when she's present.

●

The benefit of the doubt requires a high minimum deductible.

●

I believe the children are our future (assuming we're talking about robot children).

Executive Intelligence Summary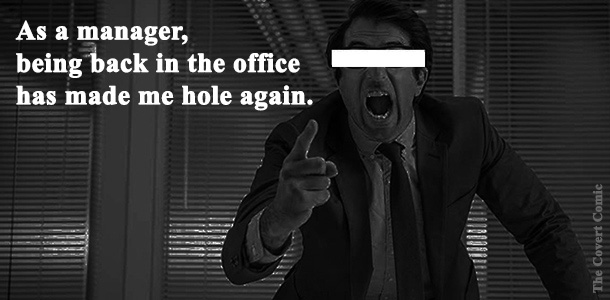 From PostTopSecret
*
A policy that won't fly, may yet slither.
● I woke up face down on a dirty floor, a pack of scruffy kids rifling through my pockets. At the sight of an approaching woman cursing loudly, they scattered. Slowly taking stock of my surroundings, I realized I had made it upstairs to the kitchen of our house. – Contact Report
● One could be forgiven for concluding that artificial intelligence is the outsourcing of human thought - provided one apologized to artificial intelligence and agreed to at least six months of neural monitoring.
● Switzerland's policy of non-aggression applies solely to military matters, and does not extend to its chocolate.
● Let's schedule a meeting to disgust the proposal. – At the UN
Executive Intelligence Summary
What I love
And what I have set free
And what I await the return of
Is me
*
You cannot escape the responsibility of tomorrow by evading it today. You'll have to wait and evade it tomorrow.
● By sheer coincidence, the blouse bordering her plunging décolletage was exceedingly sheer, barely concealing her coincidences. – Contact Report
● The best defense against a cyber attack? Deliver a swift, hard kick to the cyber's groin.
● If her husband hadn't cheated on her, the film would have been called 'Baking Cookies with the 50 Foot Woman.'
● Actually, I don't mind being treated like a number, as long as it's a big, important number. – Who Killed the Covert Comic?
Motivational Secret of the Week
If you don't levitate for something, you'll stand for everything.
The Covert Comic officially isn't on Twitter.
*

The Covert Comic.
Read him while you still can!