The Covert Comic
Weekly Intelligence Briefing
(Note: Cleared readers only, please.)
WARNING: Due to centrifugal effects, what goes around, when coming around, may detach and accelerate rapidly toward observer.
● The best defense against fundamentalism isn't drones firing missiles, but girls reading books.
Specifically, books like Counter-fundamentalist Missile-firing Drone Operations for Girls.
● I read that the axioms of equality hold a privileged place in mathematics. I wonder if mathematics isn't being just a little hypocritical here.
● Life has a very simple plot: first you're here and then you're not. – Eric Idle
Death has a plot that's simpler by far: first you're nearly there and then you are. – [CLASSIFIED]
● Right up there at the top of the list of things that are better than sex has got to be compiling and collating the list itself. – My War on Terror!
Executive Intelligence Summary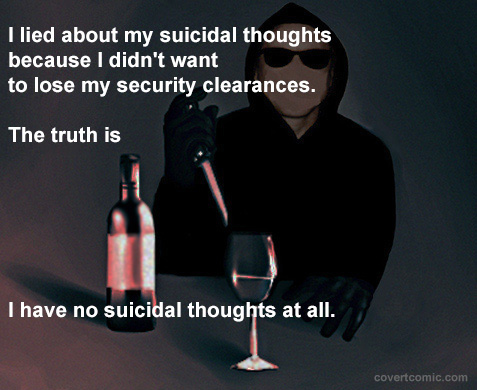 From PostTopSecret
*
Collection technology is the sildenafil in the marriage of HUMINT operations and analysis.
● Law Enforcement Sensitive? Every law enforcement officer I know is.
● SpookSpeak. Appreciation of the Situation n. (Mil/Intel) A process of logical reasoning based on assessment of relevant data; typically followed by Aggravation of the Conflagration.
● The invention of the electric streetlight made it easier for police to identify prostitutes, and more urgent for ordinary women to dress like them.
● The only way to discover the limits of the possible is to fill out and submit a Possibility Limits Discovery Request Form. – Tradecraft
Executive Intelligence Summary
You say 'mixed reality' like there's some other kind.
*
The heart is a Secure Compartmented Information Facility – remove all sensitive materials before permitting entry to non-cleared personnel.
● In recognition of Breast Cancer Awareness Month, classified text in CIA documents released under the Freedom of Information Act, rather than being blacked out, will be pinked out this month instead.
● I always think before I speak. I always think "I think I'll speak now."
● It's a dog-lick-dog's-own-genitals world. – My War on Terror!
● I'm not irreproachable. You can come hang with me any time.
Executive Intelligence Summary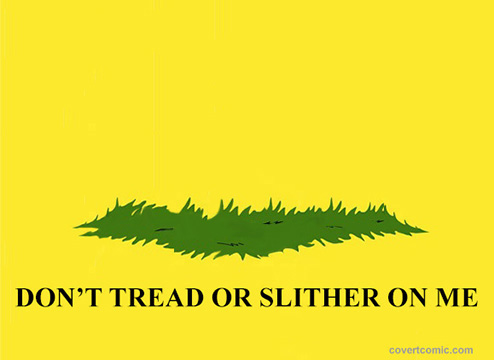 The Covert Comic officially isn't on Twitter.
*

The Covert Comic.
Read him while you still can!