The Covert Comic
Weekly Intelligence Briefing
(Note: Cleared readers only, please.
)
Set phasers on Glock. – Beaming down to the surface of a particularly violent, backward planet
● She was five feet seven inches of burning passion. And that was widthwise. – Contact Report
● Most parties are gender reveal parties, eventually.
● She gave me a look you could make ice cubes with.
"Why the Rubbermaid easy release ice cube tray face?" I asked.
● 11% of Americans believe HTML is a sexually transmitted disease. In reality of course, HTML is caused by bacteria living in the lower bowel.
Executive Intelligence Summary
I'm not bitter. I'm more umami.
*
You say 'foreign intelligence' like there's some other kind.
● Of all the embassies in all the cities in all the world, she walked into mine. ... And oh did I intend to stamp her visa. – Contact Report
● The least badass part of my bad ass is badder-ass than the baddest-ass part of your clearly non-bad ass. – from Badass Quotes
● Knowing the rhythm is gonna get me, I carry a concealed suicide pill on my person at all times.
● Don't tell people "Tomorrow belongs to those who prepare for it today" today. Prepare today and tell them tomorrow.
Executive Intelligence Summary
As if the economy itself isn't a gig.
*
If the source is bleeding, it's OSINT by definition.
● At most. – My manager, answering a question on my performance evaluation: 'Does he/she qualify as an Intermittent Federal Employee?'
● ... Wait, the F in MILF doesn't stand for fathom???
● Motivational Secret of the Week. Avoid those who attempt to establish dominance in relationships by diminishing the self-worth of others. If they're not willing to commit to diminishing your self-worth exclusively, you need to move on.
● That it is what it is does not imply that it isn't what it isn't.
PostTopSecret of the Week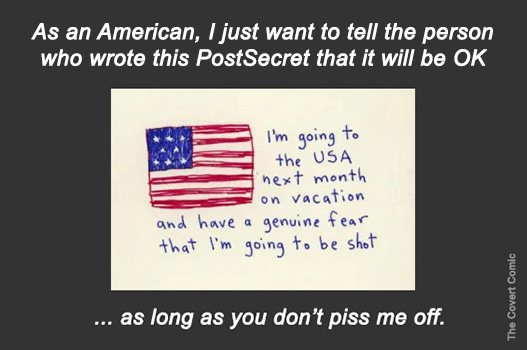 – From PostTopSecret
The Covert Comic officially isn't on Twitter.

The Covert Comic.
Read him while you still can!