The Covert Comic
Weekly Intelligence Briefing
(Note: Cleared readers only, please.
)
If my room is bugged, that would presumably explain the laugh track.
● Intelligence Community Dis of the Day. He's got nuclear intelligence? I'd say more like quark-sized at best.
● Attended hostile work environment training last week. Most of the hostile work environments clearly didn't want to be there.
● Tourists should avoid appearing lost or confused? What do you think made them tourists in the first place???
● In the time it takes to say 'it's impossible,' someone has already finished saying 'it can't be done.'
Executive Intelligence Summary
A little dangering is a learneous thing.
*
The Law of Depths. The depth of an intellect will tend to vary inversely with the depth that intellect attributes to the state.
● Subject stated that her lips were sealed, thereby conclusively demonstrating untruthfulness. – Assessment by Counterintelligence of potential recruit
● There is effectively no difference between saying the word 'ukulele' and playing one.
● Instead of yelling 'Gooooooooal,' shouldn't soccer announcers yell 'Achieeeeeevement'?
● Back in my day we didn't need non-fungible tokens. (My day is August 17th 1983; I recently purchased that day's non-fungible token).
Executive Intelligence Summary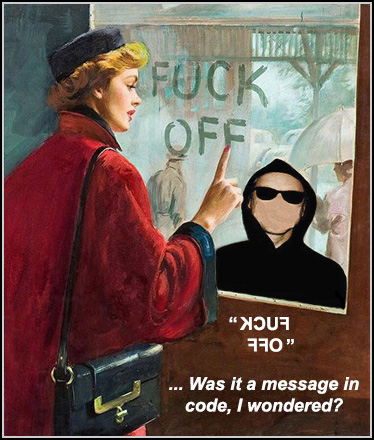 *
I'm a 20-year CIA officer, but I spy at a 22-year level.
● As fate would have it, fate was having none of it. – Ops report
● The word 'tuba' sounds like a tuba. The word 'drum' sounds like a drum. But the word 'glockenspiel' sounds like a gun show.
● Really getting tired of all these attack ads against 'Big Pharma.' Pharmas grow our phood, people.
● I don't care what it says, I'm just happy knowing there's an old saying.
Executive Intelligence Summary
You'll never know how high you can soar until you climb inside the cannon.
The Covert Comic officially isn't on X.

The Covert Comic.
Read him while you still can!