The Covert Comic
Weekly Intelligence Briefing
(Note: Cleared readers only, please.
)
If I'm an accessory to human rights violations, let me be a minaudière.
● "When you say 'rules of engagement,' are you talking about directives pertaining to combat operations, or do you mean agreeing to get married?" she purred.
"... Yeah," I whispered, leaning closer and pouring her another drink. – Ops Report
● Money doesn't buy happiness. At least not the smart money. The smart money leases happiness, which allows it to enjoy a superior model of happiness with lower monthly payments plus an option to trade in that happiness for new happiness in as little as two years.
● I need to improve my work-work balance.
● Money launderers have bigger dryer balls.
Motivational Secret of the Week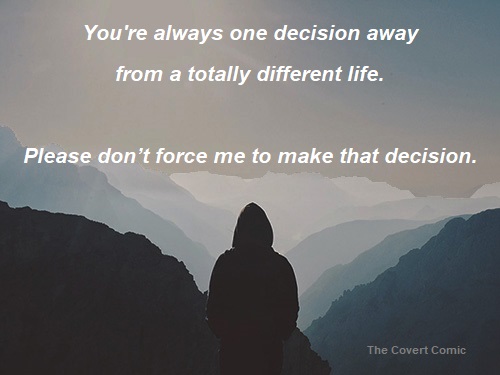 – from PostTopSecret
*
You say 'threat report' like there's some other kind.
● Non grata, still working on persona.
● Given that each tends to multiply around garbage, excrement and dead bodies, 'flies' and 'files' can basically be considered different spellings of the same word.
● I want to take a conflict management course at work, but my manager is conflicted because it conflicts with our management meeting.
● What stays in Vegas is a persistent sense of won't-even-come-close-to-happening in Vegas.
Executive Intelligence Summary
If I don't write solipsism jokes, who will?
*
For every CIA front
There's another front behind it
Administered by a grunt
Who wishes they weren't assigned it
● A congressional intelligence committee is like a Frank Lloyd Wright house: impressive from the outside, but the inside is full of leaks.
● The love that dare not speak its name long ago became expert at encrypting it.
● I have lacrosse intolerance. I'm unable to digest a sport in which no goalie has stopped any shot ever.
● Pictures in women's self-defense books never show women kicking other women. The idea is to leave something to the imagination.
Executive Intelligence Summary
Foreign Agents Registration Act? It's OK, I'm American.
The Covert Comic officially isn't on Twitter.

The Covert Comic.
Read him while you still can!