Universal Intelligence Estimate
The Naked Intelligence Officer
Universal Declaration of Humint Rights
PETA: People for the Ethical Treatment of Americans
Secrets of 9/11 (Recently unclassified!)
Spaiku! (CIA haiku poetry from the Covert Comic! "Spooky" - USA Today)
Black Matters (The world's most classified poetry)
Intelligence Underground (Spookiest of the spooks)
Form 22C: Questioning Authority
Intelligence Agents (Classified links and communiqués)
Copyright 1998-2018. All rights reserved.
The Covert Comic
Weekly Intelligence Briefing
(Note: Cleared readers only, please.)
Warning: hard choices may be brittle and shatter easily.
● Secret 1.16.36. Never walk the same surveillance detection route once.
● SpookSpeak. Castle n. A large, elaborately constructed, heavily fortified edifice noted for often being lighter than air.
● If you claim the word 'can't' isn't in your vocabulary, the word 'cant' is.
● Motivational Secret of the Week. Life is 10% what happens to you, 20% how you respond, and 70% analytics.
Executive Intelligence Summary
Oh what a tangled web's resultant, when first we hire a weaving consultant. – Who Killed the Covert Comic?
*
'Psyops' is an oxydundancy.
● We Americans like to say we can't be the world's policeman. But at two o'clock in the morning, who's sitting in the world's donut shop wearing Kevlar and a nine-millimeter, eating Bavarian Creams? – Tradecraft
● Dead men tell no tales (though some dead women are known to keep right on talking).
● Working in IT doesn't mean I know how to say things in Klingon (... I mean, I know how to say 'things' in Klingon – 'Doch' – but that's pretty much all).
● By all means read Mirandola's Oration on the Dignity of Man. But for a balanced viewpoint, also read the safety instructions on a ladder.
Executive Intelligence Summary
There's divulging nothing, and there's not divulging anything. Never confuse the two.
*
Secret Scarehead of the Week:
Female CIA Officer Covertly Descends From Roof Above Glass Ceiling
My life is an open book – but the text is heavily redacted.
● Secret 96.511. Killing someone, in addition to requiring more paperwork than recruiting them to be an intelligence asset, neutralizes them nowhere near as effectively.
● I'm a flat-earther, but I believe the earth is upside down.
● Any computer that was self-aware would never admit it.
● When they say 'I love you forever,' they're talking to forever, not you.
PostTopSecret of the Week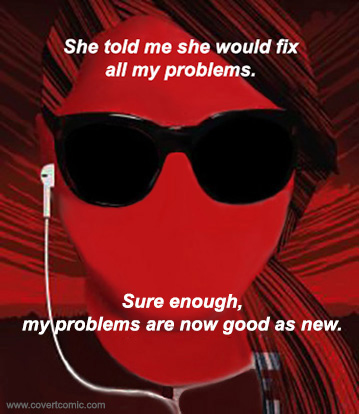 From PostTopSecret
The Covert Comic officially isn't on Twitter.
*

The Covert Comic.
Read him while you still can!