Universal Intelligence Estimate
The Naked Intelligence Officer
Universal Declaration of Humint Rights
PETA: People for the Ethical Treatment of Americans
Secrets of 9/11 (Recently unclassified!)
Spaiku! (CIA haiku poetry from the Covert Comic! "Spooky" - USA Today)
Black Matters (The world's most classified poetry)
Intelligence Underground (Spookiest of the spooks)
Form 22C: Questioning Authority
Intelligence Agents (Classified links and communiqués)
Copyright 1998-2017. All rights reserved.
The Covert Comic
Weekly Intelligence Briefing
(Note: Cleared readers only, please.)
What is authority without accountability – and how can I get a bunch?
● Everything you need to become a CIA operative is already within you. While you were sleeping we implanted it under your skin.
● Our nation's moral code is in dire need of renewal – its security certificate is about to expire.
● Why not simply make the cell phone housing out of rice in the first place???
● We're all on our deathbed, but some of us are jumping up and down on the mattress. – Catwalk of Spies
Executive Intelligence Summary
Whether or not you're topless depends on what you consider your top.
*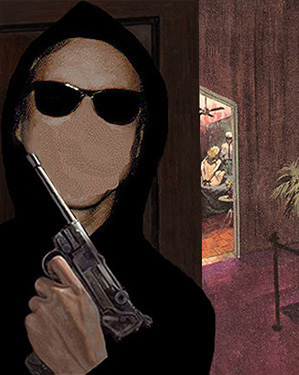 I'm not cleared for anything – I'm only cleared for everything.
● Secret 800.F. Always make sure your throwaway agents are biodegradable.
● Found out this is Alcohol Awareness Month. Why wasn't I made aware of alcohol sooner??? This stuff is amazing!!!
● Men and women are equal, but women and men aren't.
● Motivational Secret of the Week. Never use the word 'impossible.' Use 'non-budgetable' – it's stronger.
Executive Intelligence Summary
In the time it takes to say 'here and now,' it's already there and then.
*
There are no intelligence successes, only intelligence failures gone wrong.
● I said we needed to instill a sense of urgency in our humint assets. Not 'install.'
... But show me that prototype again.
● When nursing a grudge, lie sideways, position yourself nose to nipple, and don't push the back of your grudge's head.
● Whenever I hear that song 'Torn Between Two Lovers,' I always wonder whether they tore her vertically or horizontally.
● Every dog has its day, but does any dog know that?
Motivational Secret of the Week
If you can dream it, you're probably not doing it.
The Covert Comic officially isn't on Twitter.
*
Blow Your Cover!
Nothing says "I can neither confirm nor deny that I regularly read the Covert Comic" like a genuine Covert Comic bumper sticker.
Create your own covert action! [Officially don't] purchase and affix these stickers to the bumpers of CIA or FBI counterintelligence officers' cars, street signs in heavily traveled areas of Georgetown, cubicles at the Defense Intelligence Agency, the back of Air Force One, etc.
Stickers are standard 3x10 inch, full color, and are shipped promptly and secretively via First-Class Mail (no shipping fee!). Price: $10. Allow 2-3 weeks for delivery.
(Note: An ultra-classified portion of proceeds from the sale of Covert Comic bumper stickers goes to Fisher House, a tax deductible charity providing lodging and other support to families of wounded US military personnel. ... And you're right, lady, I am arrogant and self-serving.)



Can't we all just coexist?




The Covert Comic.
Read him while you still can!